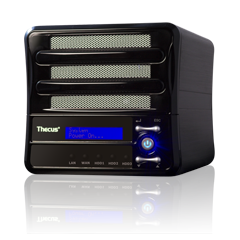 N3200
RAID 5 security and performance finally comes home
Features
Home NAS with RAID5 Protection
Our most advanced home NAS yet. The N3200 is the first of its kind that offers RAID 5, offering a perfect combination of data security and performance. Enjoy the speed of a striped array with the security of complete data redundancy. What could be better?


Home Application Oriented Features
The N3200 is perfect for the home. Its Media Server allows easy connections to DLNA-compatible devices. The iTunes® Server offers music streaming throughout the entire home, while the Photo Web Server enables users to share their precious photos anywhere on the network. With the N3200, the digital lifestyle can be fully realized.


Stylish Design
Featuring clean lines and sophisticated styling, the N3200 is equally suited for the study or the living room. It's distinct design makes it an appliance that users will want to show off.


Easy Disk Management
Thecus is known for making things simple, and the N3200 is no exception. With its uniquely-designed disk management system, installing and removing disks is a snap, which means that users can spend more time enjoying their digital media and less time setting things up.


LCD Display
The handy LCD panel makes managing the N3200 easy, even in dimly-lit environments like a living room during a movie screening.


Wireless Ready
Optional wireless connectivity via compatible USB dongle allows users to access their media files all without the need for cumbersome wires.
Overview
09/18/2007 – The digital age has arrived, and users from around the world are looking for ways to store, share, and secure their movies, videos, photos, and music. The need for digital storage solutions in the home is higher than ever, and with this in mind, Thecus Technology has created its most advanced home NAS device yet – the N3200. Featuring three SATA hard disk bays, an array of friendly features, and stylish design, the N3200 brings the security and performance of RAID 5 to a unit perfect for the home. 
Small yet powerful, this 160 x 170 x 215 mm unit comes with some of Thecus' most advanced features. Headlining is its three SATA drive bays, which not only give the N3200 up to 3TB of storage capacity, but also gives users the option of RAID 5. With RAID 5, home users can enjoy the speed of a striped array with the security of complete data redundancy, ensuring that their precious memories will stand the rest of time. The N3200 has also been designed for total ease-of-use. With a completely tool-less design, installing and removing disks is a snap, which means that users can spend more time enjoying their digital media and less time setting things up. A handy LCD display informs users of system status, and enables easy system management in dimly-lit environments. Thecus' web-based management system makes a return to the N3200, allowing users to configure and manage the unit through any browser connected to the network, and with USB wireless dongle compatibility, users can even connect to the N3200 without being tangled up with wires. 
As a NAS for the home, the N3200 also comes with a selection of friendly features that enable the digital lifestyle. A built-in iTunes® Server makes it easy to stream an entire music library over the network, while a Photo Web Server enables users to share and enjoy photos with friends and relatives. A DLNA-compatible Media Server is also included, making the N3200 an ideal device to stream digital content to DLNA-compatible devices. The N3200 can also keep an eye on things at home with its Web Surveillance Server. Just plug in a compatible USB webcam and the N3200 can take scheduled snapshots – all without having a PC turned on!
"Home users are going to love what we've included in the N3200," says Thecus General Manager Florence Shih." the N3200. I invite users around the world to experience the benefits of RAID5 at home." 
For more information on Thecus, go to: http://www.thecus.com
Specs
Hardware Specifications
Network Interfaces

WAN

1 x 10/100/1000 Mbps Ethernet Port

LAN

1 x 10/100/1000 Mbps Ethernet Port

Storage

HDD Bay

3 x 3.5" SATA HDD

HDD Capacity

80/120/160/200/250/300/400/500/750/1000

IO Interfaces

PCI Interface

For proprietary Thecus application

eSATA Interface

1 x eSATA port (Back)

USB

2 x USB 2.0 ports (Front x1, Back x1)

IR receiver

For future options

System Information

LED Indicators

1 x Power LED

2 x Network link + activity LED

3 x Hard drive power + activity LED

LCD Module

For basic configurations and status display

Power Supply

External Adapter

AC 100 ~ 240 Volt, 50/60 Hz, auto detection

Environment

Safety and Environment

CE, FCC, BSMI, C-Tick, VCCI, RoHS Compliant

Temperature

5℃ to 40℃

Humidity

0 ~ 80% R.H. non-condensing
Software Specifications
Network

Configuration

Fixed IP address, Dynamic IP address, DDNS

Network File Protocols

Microsoft Networks (CIFS/SMB)

Apple Filing Protocol (AFP 3)

File Transfer Protocol (FTP)

WebDisk through Hyper Text Transfer Protocol (HTTP) or Secure Hyper Text Transfer Protocol (HTTPs)

Network Client Type

Microsoft Windows NT/2000/XP/2003/Vista

Unix/Linux/BSD

MAC OS X, OS 9, OS 8.6

DHCP Server

Assigning IP address on LAN/WLAN ports

Disk management

RAID

RAID 0, 1, 5, and JBOD

Auto Rebuild

Hot Swappable

Hot Spare

Disk Roaming

Power Management

Disk idle spin-down

External USB

HDD/Flash disk support

Multimedia Support

Media Server

Works with DLNA-certified players.

Supported File Types: MPEG, RMP, WPL, PLS, M3U, ASX, WAV, PNG, BMP, AVI, WMV, WMA, MP3, LPCM, JPEG

iTunes Server

Supported File Types: AAC, MP3, WAV

Photo Web Server

Supported File Types: GIF, JPG (JPEG), BMP, PNG

Support EXIF display

Support slide show

Web cam

Support Capture, preview, schedule

Support image size : 160 x 120, 320 x 240, 640 x 480

Share Management

User Authentication

Microsoft NT Domain Controller (PDC)*

Microsoft Active Directory Authentication (AD)*
Supports built-in user accounts
Supports built-in user groups

Folder Management

Share Folder Level Permission

Public Folder

File System

File System Type

Journaling File System

Language Support

Unicode Support

Authorization

Read, Write or Deny options on individual users or groups

Administration

Multi-Lingual Web-based Administration

Web-based server management Interface Supports English, Traditional Chinese, Simplified Chinese, Japanese, Korean, French, German, Italian, Spanish

Setup Wizard

MS Windows, MAC OS X device discovery and setup utility program

E-mail notification

Send system message via e-mail to specified e-mail accounts

NTP support

Network Time Protocol support

Backup

Thecus Backup Program

Thecus Backup Utility (Client backup utility; supports Microsoft Windows XP/2000 /MAC OS X)

USB copy

Copy USB Mass storage device contents to specified location to NAS

Misc.

Print Server

Network printing through Internet Printing Protocol (IPP) using USB printer

Download Manager

Support BT, FTP, HTTP schedule download

Schedule on/off

Schedule on/off form power saving
*PDC/AD support: Works as a client member in a Microsoft NT 4.0 domain/Active Directory domain, allowing the N3200 to utilize the domain users and groups setting for authentication to the system and authorization to the share folders.
**For supported USB dongles, please contact sales@thecus.com