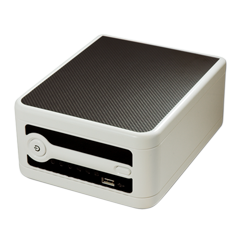 N299
The friendly, unbelievably affordable home NAS device
Features
Share Memories and Music
With its built-in photo web server, the N299 allows you to easily share your favorite photos with every client on your network – all through their favorite web browser. And with its iTunes® server, you can share your music with them as well – quickly and easily.
Convenient Downloads
Why keep your entire PC on to complete your downloads? With the N299's download manager, you can schedule your downloads with your favorite protocol. BT, HTTP, and FTP transfers can be completed during off-peak hours, saving time and energy.
True Peace of Mind
The N299 doesn't just help keep your data secure. With its IP cam still image preview and capture, simply plug in a compatible IP cam and the N299 instantly becomes a simple home surveillance system. Best of all, your PC doesn't even have to be powered on!
No More Wires
With USB wireless dongle compatibility, the N299 can be set up for complete wireless access. Access photos, files, movies, and music to wireless clients throughout your home, and experience the true convenience of a wireless file server.
Save it. Store it. Share it. Now you can have it all for less with the N299 from Thecus.
Overview
Movies, music, and photos. Users nowadays not only want to store and protect them, but have a way to share them quickly and easily. One of the best ways to do this is with a network-attached storage unit, or NAS – a device which allows users to store and share files across an entire network. Since the beginning, storage leader Thecus Technology has been developing digital storage solutions for users of all types. Today, Thecus is pleased to introduce a NAS device that brings this exciting technology to the mainstream – the N299. Friendly and feature-packed, the N299 represents Thecus' most affordable NAS entry ever. 
Users expecting a watered-down NAS device will be pleasantly surprised with the N299. Like other Thecus storage solutions, the N299 comes with many of the same features and functionality of its more premium brethren. Two 3.5" SATA hard disk bays enable up to 1TB of storage capacity, while convenient and speedy USB 2.0 ports make storage expansion easy. Users can choose between RAID 0, 1 or JBOD depending on their needs, and two Gigabit Ethernet ports ensure speedy access to stored data. Users can even opt to install a compatible wireless USB dongle for easy wireless access to the N299! 
The N299 is perfect for storing and sharing digital media files with its built-in software suite. The iTunes® Server and Photo Web Server allow users to easily share music and photos respectively with PCs throughout their network. The included Media Server enables users to stream videos and more to compatible uPnP devices such as digital media receivers, allowing them to enjoy their digital media anywhere in the house. The N299 also comes with a convenient Download Manager, which allows users to schedule BT, HTTP, and FTP downloads during off-peak hours to save both time and energy.  And for true peace of mind, the N299 can even be used as a simple home surveillance server by plugging in a compatible IP webcam! All of this is administered through an easy-to-use web-based interface compatible with any browser in Windows, Mac OS, and Linux-based environments.
"Digital storage is our passion, and the N299 demonstrates our desire to share our passion with as many users as possible," says Thecus General Manager Florence Shih. "With excellent functionality at a very reasonable price, the N299 is our most affordable NAS device yet." 
For more information on Thecus, go to: http://www.thecus.com
Specs
Hardware Specifications
Network Interfaces

WAN

1 x 10/100/1000 Mbps Ethernet Port

LAN

1 x 10/100/1000 Mbps Ethernet Port

Storage

HDD Bay

2 x 3.5" SATA HDD

HDD Capacity

80/120/160/200/250/300/400/500GB

USB External storage devices

USB 2.0 ports for easy storage expansion

System Information

LED Indicators

1 x Power LED

1 x System busy LED

2 x Network link + activity LED

2 x Hard drive activity + fail LED

1 x USB LED

Buzzer

System alert

Outlook

Dimension

160 x 85 x 200 mm (H x W x D)

Security

Kensington Lock

Power Supply

External Adapter

External power adapter,

Input: AC 100 ~ 240 Volt, 50/60 Hz

Output: DC 12V

Environment specifications

Temperature

5℃ to 40℃(Operating)

Humidity

0 ~ 80% R.H. non-condensing

Safety and Environment

CE, FCC, BSMI, C-Tick, VCCI, RoHS Compliant
Software Specifications
Networking

Configuration

Fixed IP address, Dynamic IP address, PPPoE, DDNS

Network File Protocols

Microsoft Networks (CIFS/SMB)

Apple Filing Protocol (AFP 3)

Network File System (NFS v3)

File Transfer Protocol (FTP)

WebDisk through HTTP/HTTPS

Network Client Type

Microsoft Windows NT / 2000 / XP / 2003 / Vista

Unix / Linux / BSD

MAC OS X, OS 9, OS 8.6

DHCP Server

Assigning IP address on LAN/WLAN ports

Print Server

Network printing through Internet Printing Protocol (IPP)

Download Manager

Support BT, FTP, HTTP schedule download

Disk management

RAID

RAID 0, 1 and JBOD

Power Management

Fan

Thermal controlled system fan

Multimedia Support

Media Server

Support uPnP AV streaming protocol

iTunes Server

Supported File Types: AAC, MP3, WAV

Photo Web Server

Supported File Types: GIF, JPG (JPEG), BMP, PNG

Support EXIF display

Support slide show

Simple Surveillance Server

Support Image capture, preview, schedule

Support image size : 160 x 120, 320 x 240, 640 x 480

Share Management

User Authentication

Supports built-in user accounts and groups

Folder Management

Share Folder Level Permission

Public Folder

Permission management

Read, Write or Deny options on individual users or groups

File System

File System Type

Journaling File System

Language Support

Multilingual Support

Administration

Web-based Administration

Multilingual Support

English, French, German, Italian, Spanish, Traditional Chinese, Simplified Chinese, Korean and Japanese

Setup Wizard

Windows based device discovery and setup utility program

Email Notification

Send system message via Email to specified Email accounts
Package Contents
| | |
| --- | --- |
| | |
| Power Cord | Warranty Card |