Linux NAS | SMB - Rackmount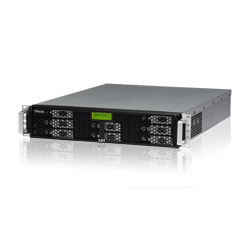 N8800SAS
The Ultimate 2U NAS Server with Core 2 Duo
Features
Blazing Dual Core Performance
The N8800SAS comes loaded with Intel® Core 2 Duo technology for breakthrough speed and performance. With the N8800SAS, business users can enjoy increased concurrent connections and lightning-quick system response.

Unique Dual DOM™ Design
In business, having access to mission-critical data at all times is crucial. The N8800SAS is equipped with a dual Disk On Module (DOM) design to ensure flawless operation and maximum uptime.

Serial Attached SCSI Support
Enter a new generation of data performance with the N8800SAS. This eight bay wonder provides full Serial Attached SCSI (SAS) hard disk support for ultra-fast data throughput.

Rock-Solid Reliability
Every business needs to be able to rely on their data. For these users, the N8800SAS and its multiple RAID modes make sure that data is protected at all times.

Maximum Flexibility
To allow for integration in to virtually any corporate network, system administrators can choose among several file systems, including Ext3, XFS, and ZFS. Also, the N8800SAS provides compatibility with iSCSI initiators for excellent data transfer speeds.
Overview
Thecus® Technology is always pushing the boundaries of what people expect in NAS storage. Constantly innovating, Thecus® has released a number of world firsts, and today, Thecus® is proud to announce another one: the N8800SAS – the world's first rackmount NAS to feature SAS hard disk support for blistering data performance.
Engineered for businesses looking for a high performance yet cost-effective storage platform, the N8800SAS is a 2U rackmount NAS that features a bevy of cutting-edge technologies. Headlining is its ability to accommodate up to eight SATA or SAS (Serial Attached SCSI) hard disks. With the N8800SAS, enterprise users can enjoy the speed and reliability of SAS at a fraction of the cost of competing rackmount solutions. At its core, the N8800SAS features an Intel® Core 2 Duo processor and DDR2 memory for snappy system response and more concurrent connections. And for even more storage capacity, the N8800SAS is stackable with other N8800SAS units, allowing companies to easy expand their storage at any time.
Of course, performance is just one side of the equation. In a corporate environment, reliability and uptime are paramount. To keep data secure, the N8800SAS offers multiple RAID modes, including RAID 0, 1, 5, 6, 10 and JBOD, and even allows administrators to configure multiple RAID volumes on the same unit for added flexibility. Should changes need to be made, the N8800SAS comes with online RAID migration and expansion, as well as auto-rebuild, hot-swap and hot spare for uninterrupted service. For maximum uptime, the N8800SAS comes with a unique Dual DOM design, a 450W redundant power supply, and dual Gigabit Ethernet ports with 802.3ad link aggregation, load balance, and failover. Data can be backed up via FarStone Drive Clone PRO 5.0 or Thecus® proprietary Nsync remote replication, and to ensure total data security, the N8800SAS even features AES 256 bit RAID volume encryption.
Finally, the N8800SAS offers unrivalled flexibility. Multiple selectable file systems, including Ext3, XFS and ZFS, and compatibility with Windows, Mac OS, and Linux, make the N8800SAS easy to integrate into virtually any corporate network. What's more, the N8800SAS comes equipped with a multitude of useful features, including a media server, a download manager, web server functionality, CD/DVD ISO image sharing, and even can be used as an IP cam surveillance server.
"With support for the latest SAS hard disk technology, the N8800SAS once again pushes the envelope for corporate NAS units," said Florence Shih, Thecus® Technology General Manager. "Brimming with cutting-edge features, blazing performance, and rock-solid reliability, the N8800SAS is ready for business."
Specs
1.Hardware Platform
Item

Spec

Processor

Intel Core 2 Duo Technology

SATA/SAS device

8 x SATA/SAS for internal, 1 x eSATA for external

System Memory

4GB DDR2 SDRAM *

LAN Interface (PCI-e)

RJ-45x2 : 10/100/1000 BASE-TX Auto MDI/MDI-X WOL supported

USB Interface

USB 2.0 host port x4(Front x2, Back x2) (A Type)

LCM Module

Displays system status and information

LED indicator

Power:(Yellow)
System alert : Redundant power or system fan failure(Red)
HDD1-8 Activity/Fail(Green/Red)

PCI-e x 1 slot

2

Power supply

450W Redundant Power Supply

Disk interface

SATA/SAS x8 via backplane

Thermal/Fan control

Thermal sensor on processor temperature

System Fan

4 x Hot Swappable

Buttons
Power button(Front, power down controlled by S/W)
LCM button (ENT,ESC,UP, DOWN)
System reset button
Mute button while system alert

RS232

1 (For UPS)

Environment

Temperature : 5°C to 40°C
Humidity : 0 ~ 80 % R.H. (Non-condensing)

Dimension

Rack Mount
2. Software Functions
RAID

RAID modes

RAID 0, 1, 5, 6,10,JBOD

Auto-rebuild

Supported

Hot-swap

Supported

Hot spare

Supported

SMART Info

Supported

SMART Test

Supported

On line RAID Migration

Supported

On line RAID Expansion

Supported

RAID Volume Encryption

AES256bit

Disk

Power management

Spins down while idle time setup (SATA HDD only)

Bad Block Scan

Supported

Roaming

Support roaming to other N8800SAS

Network

Configuration

Fixed IP Address, Dynamic IP Address,

IP sharing mode

Can be enabled/disabled

Transport Protocols

TCP/IP/Appletalk

File Protocols

SMB/CIFS, HTTP/HTTPS, FTP, NFS v3, AFP

Link Aggregation

802.3ad, load balance and fail over

Data Access

Client OS support

Windows XP and after
Windows Server 2003 and after
UNIX/Linux
Mac OS X

WebDisk

Web-based file access

FTP

Build in FTP Server with bandwidth control

Secure FTP

Build in secure FTP Server with bandwidth control

Download Manager

HTTP / FTP / BT / eMule

Printer Server (IPP)

Supports USB printers
Supports IPP various printers
Client can manage print tasks (List/Delete) via Web user interface

Data Backup

Client data backup

Acronis True image(OEM version)

Client system Disaster Recovery

Acronis True image(OEM version)

NAS Remote Replication

Via Thecus proprietary Nsync

USB device copy to N7700SAS

Through LCM to control

Snapshot

Supported

Bi-directional USB Copy

Supported

Block Level Access

iSCSI Target

Support Microsoft/Mac/Linux Initiator

iSCSI initiator

For stackable with N5200/1U4500/N5500/N7700/N8800

iSCSI Thin Provisioning

Supported

Power management

Schedule power on/off

Supported

Volume management

Multiple RAID

Supported

Multiple file system selectable

Ext3 / XFS / ZFS

Multimedia Support

iTunes Server

Supported File Types: AAC, MP3 w/ ID3 tag, WAV

Photo Web Server

Supported File Types: GIF, JPG (JPEG), BMP, PNG
Support EXIF display
Support slide show

Media server

Support uPnP AV streaming protocol

User Authentication

Local User

Supports built-in user accounts

Local Group

Supports built-in user groups

Windows NT/ADS

Supported

File System

Type

Journaling File System

Capacity

16TB (XFS,ZFS) / 8TB (ext3) per volume

Language Support

Unicode Support

Authorization (ACL)

Read, Write or Deny options on individual users or groups for share and sub-folders

Administration

Multi-Lingual Web-based administration (Default auto)

Web-based server management Interface Supports English, Traditional Chinese, Simplified Chinese, Japanese, Korean, French, German, Italian, Spanish, Russian and Polish

Utility Program

MS Windows Setup Wizard, Supports Windows 7/2000/XP/2003/Vista
Mac setup Wizard (OSX only)

Email notification

Sends system messages via Email to system administrator

SNMP trap

System information trap out

Others

Dual DOM

Supported

Web Disk

Supported

Recycled bin

Supported

Web Server (Module)

Supported

ISO Mount

Supported

User module interface

Supported

IP CAM surveillance Server (Module)

Supports up to 10 IP CAM

* Shipment after 09/28/2009.
Package Contents
| | | | |
| --- | --- | --- | --- |
| | | | |
| Accessory Bag(with key) | Ethernet Cable | Power Cord | Acronis True Image DVD |
| | | | |
| Universal CD | QIG | HDD Compatibility List Card | Fixed Shelves |