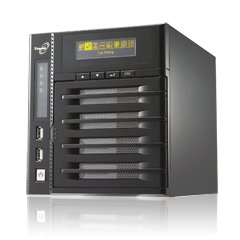 N4200Eco
Power Meets Affordability
Features
Next-Generation Performance
The N4200Eco is powered by the latest Intel® Atom™ D525 Processor and 1GB of DDR3 memory, which delivers impressive performance across the board. Transfer files at incredible speeds, experience instantaneous system response, and have multiple clients connect to the N4200Eco hiccup-free.
Huge Storage Capacity
If you've got a lot of data to store, then you're going to love the N4200Eco. Four SATA hard disk bays mean up to 8TB of storage, perfect for your entire collection of movies, music, photos and more. And with hot-swap capability, you don't even need to turn the NAS off to swap out a hard disk.
Complete Data Management
When it comes to data management, the N4200Eco truly lets you have it your way. Select between multiple RAID modes including RAID 0, 1, 5, 6, 10 and JBOD for your own balance of performance and data protection. Should a hard drive malfunction occur, changing one is simple thanks to online RAID migration and expansion, hot spare, and auto rebuild.
Dual Display Convenience
The N4200Eco is equipped with not one, but two separate displays. See critical system status from the LCD module and change various system settings using the colorful 2.8" OLED module – all without being anywhere near a computer!
Advanced Power Saving Features
Save the planet and save money at the same time with the N4200Eco's power saving features. Schedule your NAS to turn on and off automatically, and have hard disks automatically spin down when idle for a time that you specify. With features like these, saving money is a snap with the N4200Eco.
Robust Functionality
Being affordable doesn't make the N4200Eco any less functional. Included with the N4200Eco is a laundry list of useful features such as an FTP server, download manager, printer server, iTunes® server, photo web server, media server and more, making the N4200Eco an amazingly flexible and robust storage device.
Overview
Many users today want a NAS device that can handle all of their daily data backup and management needs, but not break the bank. For these users, Thecus® Technology, the Creator in Storage, is happy to announce the N4200Eco NAS Server, a surprisingly affordable four-bay NAS that offers next-generation performance and functionality.
The N4200Eco delivers first-class performance at an economy-class price. The two Gigabit Ethernet ports provide high throughput, which is a perfect match for the N4200Eco's four hot-swappable SATA bays worth of storage potential. Users can install up to 8TBs of storage, and manage it all with multiple RAID modes including RAID 0, 1, 5, 6, 10 and JBOD. Changing a damaged hard disk is easy, thanks to a slew of useful capabilities including online RAID migration and expansion, hot spare and auto rebuild, and to further protect sensitive data, AES 128bit RAID volume encryption is included as well.
Managing the N4200Eco is an incredibly simple affair. To help you keep tabs on your NAS, the N4200Eco features dual displays. Check the LCD indicator for the latest system status information including hard disk power and activity, network activity and USB copy status. The colorful 2.8" OLED module allows you to change a variety of system settings right on the spot. To help you save even more money, the N4200Eco comes with a number of advanced power saving features, including scheduled power on/off, Wake-on-LAN, and auto disk spin down. Set the N4200Eco to turn on and off at designated times and watch your power bill shrink. The N4200Eco also comes with a ton of other useful features including an FTP server, download manager, printer server, iTunes server, photo web server, media server and more, rounding out one of the best NAS values on the market.
"Featuring a new IntelAtom processor, DDR3 memory, and a slew of advanced features, the N4200Eco raises the bar again in the value NAS segment," said Florence Shih, Thecus® Technology general manager. "With impressive performance and strong functionality, we're confident that value seekers are really going to appreciate this powerful yet affordable NAS server."
Equipped with the latest Intel® Atom™ D525 processor and 1GB of high-speed DDR3 memory, users will discover that the N4200Eco delivers incredibly snappy system response, blazing file transfer speeds, and silky smooth operation even when multiple clients are connecting to it at once.
"Demand for anytime, anywhere access to data on any device continues to fuel innovation in networking and storage," said David Tuhy, general manager, Intel Storage Group. "The Intel Atom processor provides the energy efficient performance necessary to tackle next-generation workloads which include media streaming, protecting files and sharing digital content locally and remotely."
Specs
1.Hardware Platform
Item

Spec

Processor

Intel® Atom™ Processor D525 (1.8GHz Dual Core)

System Memory

1 GB DDR-3 SDRAM

LAN Interface

RJ-45x2 : 10/100/1000 BASE-TX Auto MDI/MDI-X

LCD indicator

HDD Power, Activity (Yellow) / Fail (Red)
LAN_WAN Activity (Green)
USB_COPY_Busy (Blue)
USB_COPY_ Fail (Red)

OLED Module

2.8" OLED display
4 buttons (ENTER, ESC, UP, DOWN)
Multi-lingual supported

Power Supply

External power adapter 19V input (support 2TB and above HDDx4 )

Disk Interface

SATA x4 for internal, 2x eSATA for external

Expansion Slot

PCI-e x1

USB Interface

USB 2.0 host port x6(Front x2, Back x4) (A Type)

Thermal/Fan control

Thermal sensor on system and processor
System fan speed controlled according to temperature

Real-time clock

Battery backup system clock

Buttons

Power button
Reset to factory default button

Chassis

Metal chassis

Dimensions (HxWxD)
192 x 172 x 250 (mm)
Weight
14.6Kgs

Environment

Temperature : 5°C to 40°C
Humidity : 0 ~ 80 % R.H. (Non-condensing)

2. Software Functions
RAID

RAID Modes

RAID 0, 1, 5, 6,10, JBOD

Auto-Rebuild

Supported

Hot-Swap

Supported

Hot Spare

Supported

Online RAID Migration

Supported

Online RAID Expansion

Supported

SMART Info

Supported

SMART Test

Supported

RAID Volume Encryption

AES 256bit

Disk

Power Management

Configurable automatic drive spin down

Roaming

Supports roaming to other N4200Eco NAS

Bad Block Scan

Supported

Volume Management

Multiple RAID

Supported

Selectable File Systems

Ext3/ XFS/ZFS

Network

Configuration

Fixed IP address, dynamic IP address

IP sharing mode

Can be enabled/disabled

Link Aggregation

802.3ad, load balance, failover, Balance-XOR, Balance-TLB, Balance-ALB

Transport Protocols

TCP/IP, AppleTalk

File Protocols

SMB/CIFS, HTTP/HTTPS, FTP, NFS
v3, AFP

Data Access

Client OS support

Windows XP and after
Windows Server 2003 and after
UNIX/Linux
Mac OS X

WebDisk

Web-based file access

FTP

Built-in FTP server with bandwidth control

SFTP

Built-in SFTP server with bandwidth control

Download Manager (module)

HTTP / FTP / BT / eMule / NZB

Printer Server (IPP)

Supports USB printers
Supports IPP various printers
Client can manage print tasks (list/delete) via web user interface

TFTP Server

Users can download and upload files with TFTP programs.

Data Backup

USB copy via OLED operation

Copy USB mass storage device contents to specified locations on NAS

NAS data backup to external USB disk (module)

Incremental with schedule supported

Client schedule incremental

Acronis True Image (OEM Version)

Client system Disaster Recovery

Acronis True Image (OEM Version)

NAS Remote Replication

Via Thecus proprietary Nsync

NAS Remote Replication (module)

Via Rsync to replicate data between two systems.

Mac Time Machine
Supported

Snapshot

Supported

Block Level Access

iSCSI Target

Supports Microsoft/Mac/Linux Initiator

iSCSI initiator

For stackable with N4200/ N4200PRO/N4200Eco/ N5200PRO/1U4600/N5500/N7700 series/N8800 series

iSCSI Thin Provisioning

Virtual size adjustable up to 16TB

Multimedia Support

iTunes Server

Supported file types: AAC, MP3 w/ ID3 tag, WAV

Photo Web Server

Supported file types: GIF, JPG (JPEG), BMP, PNG
Supports EXIF display
Supports slide show

Media server

Supports uPnP AV streaming protocol

User Authentication

Local User

Supports built-in user accounts

Local Group

Supports built-in user groups

Windows NT/ADS

Supported

File System

Type

Journaling file system

Capacity

Multi-terabyte

Language Support

Unicode Support

Authorization

Read, Write or Deny options on individual users or groups

Authorization (ACL)

Read, Write or Deny options on individual users or groups for shared and sub-folders

Administration

Multi-Lingual Web-based Administration

Web-based server management interface supports English, Traditional Chinese, Simplified Chinese, Japanese, Korean, French, German, Italian, Spanish, Russian, Polish and Portuguese.

Utility Program

MS Windows / Mac OS X Setup Wizard,
Supports multilingual
Supports Windows 2000/7/XP/2003/Vista, Mac OS X backup utility

Email notification

Sends system messages via email to system administrator

SNMP Management

Supported

Power management

Scheduled On/Off

Supported

Wake-On-LAN (WOL)

Supported

Others

Recycle bin

Supported

Web Server + MySQL (module)

Supported

ISO Mount

Supported

Web Disk

Supported with remote access

Auto Module Installation

If Thecus IP storage is capable of connecting to the Internet, then it will automatically link to Thecus's official website and list available modules.

IP CAM Surveillance Server
(module)

Supports up to 5 IP CAM devices

Supported Web Browsers

Internet Explorer 7 or higher
Firefox 3 or higher
Package Contents
Accessory Bag(with key)
Ethernet Cable
Power Cord
Power Adaptor
Acronis True Image DVD
Universal CD
QIG
Warranty Card
HDD Compatibility List Card