Linux NAS | Enterprise - Rackmount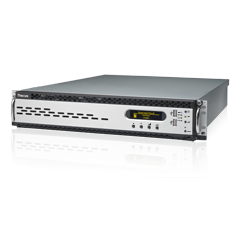 N12000
The Superior Enterprise Storage Center
Features
Intel Xeon for Blazing Speed
Harnessing the power of Intel's Xeon X3470 processor and an overwhelming 8GB of cutting-edge DDR3 RAM, the N12000 can handle anything and everything at full speed. There are no bottlenecks or speed bumps.

Enterprise Size for Enterprise Tasks
With a whopping 48 terabytes of data capacity, you'll never go wanting again. No matter whether you are providing a public server for a massive workforce or compiling a company's worth of HD video, your NAS will always be hungry for more.

SATA III and SAS 6G for Ultra-Fast Transfer Speeds
The N12000 features support for internal hard drives with SATA III and SAS 6G. This top-of-the-line connection transfers at speeds up to an amazing 6Gbit/s. It is also backwards-compatible with SATA II, so your old disks can be swapped in and out without a hitch.

High Availability (HA)
For the first time, your data is completely free of delays in access. Regardless of the situation, HA actively keeps your data on two separate, identical NAS. If one needs maintenance, the other will dutifully rise to the occasion without as much as a blip in service. Whether rain, shine, or Armageddon, your data will always be there.

Rock-Solid Security
The N12000 safeguards your data with all the RAID modes you could possibly need for an Enterprise server, including RAID 0, 1, 5, 6, 10, 50, 60, and JBOD. Changing damaged hard disks is also a breeze with its built-in hot-swap, hot-spare, online RAID migration and expansion, as well as auto-rebuild capabilities. And if you need even more protection, there is also AES 256bit RAID volume encryption available.

Block Level Accessibility via iSCSI
Take the speed of iSCSI up a notch with block level access transfers. While most transfer protocols send huge files all in one piece, this function breaks down files in smaller chunks, increasing transfer speeds immensely.
Overview
With a firm foothold in the Enterprise NAS market, Thecus knew it was necessary to provide a NAS for every budget and every need, big or small. Thecus's track record of NAS from 2-bay up to 7-bay speaks for itself, with great reviews from sites such as Tom's Hardware, iXBT, SmallNetBuilder, and many more across the globe. With the release of the N16000 NAS for large enterprise and massive data storage needs, we quickly realized that there was a gap that needed to be filled, and the N12000 does just that.
Many leading businesses are making the switch from bulky, overpriced servers to comprehensive NAS solutions. These are innovative start-ups, established worldwide firms, and everything in between. No matter where your business is or where your plan is headed, there is a NAS solution from Thecus that fits your specific needs. The 12-bay N12000 is perfect for businesses making that leap from medium to large, domestic to international, and behind-the-scenes to household name. When you need speed, security, and data storage to satisfy your company now and when it doubles in size, the N12000 is your answer.
"Thecus is getting into the enterprise NAS market in a big way," said Florence, General Manager of Thecus Technology. "Our large enterprise NAS are on the cutting edge of storage technology and offer the power and advanced security features that Thecus customers have come to expect."
The N12000 features some of the most overwhelming hardware in the computing world. The Intel® Xeon® X3470 Quad-Core processor clocked at 2.93GHz is more than enough to quickly build massive RAID partitions, support hundreds of users, and blaze through massive data transfers at record speeds. To utilize this advanced hardware to its full extent, we've implemented a 64-bit operating system to make sure you get all the power that this machine is capable of. It also supports the next generation of hard drives with 6G SATA/SAS technology, so the fastest disks will always be at your disposal. All of this performance is for dealing with up to 48 Terabytes of data capacity across 12 disks, more than enough for the demands of even the largest businesses.
"With the Intel Xeon X3470 processors, storage companies are able to deliver intelligent and energy efficient NAS solutions," said David Tuhy, general manager, Intel Storage Group. "The accessibility of the processor enables consumers and small businesses to take advantage of advanced NAS features which include media streaming, file protection and digital content sharing locally or remotely."
As an enterprise-class NAS, the N12000 needs to be on line and accessible at all times. High Availability (HA) is the most sophisticated system for keeping your data safe and within reach at all times. By running two parallel NAS, HA allows constant synchronization between the two. RAID can protect you from losing data, but HA protects you from even a momentary loss of access. The value of HA really becomes apparent when disaster strikes and one NAS experiences a problem; all traffic is channeled to the second NAS with no break in service or data loss whatsoever.From there it is a simple matter of hot-swapping out the damaged disks and letting your Thecus NAS automatically rebuild its RAID partitions; before you know it, you're back under the protective wing of HA. The N12000's cutting edge HA technology employs the best of both worlds to keep your business running smoothly, ingenuity and simplicity. This NAS fits the bill perfectly for companies taking that next big step.
Specs
1.Hardware Platform
Item
Spec
Processor
Intel® Xeon® Processor X3470(2.93GHz Quad Core)+Intel 3450 chipset
SAS/SATA controller (HBA), PCI-e (8-lane)
LSI 2008 HBA card supports 6G SAS/SATA (x8)
System memory
8GB DDR3 SDRAM
LAN interface (PCI-e)
RJ-45x3 : Intel 82574L 10/100/1000 BASE-TX Auto MDI/MDI-X
WOL supported
USB interface
USB 2.0 host port x6 (front x2, back x4) (Type A)
USB 3.0 host port x2 (back x2)
eSATA
External (back x1 )
OLED
Displays system status and information (Multilingual)
LED indicator
Power:(Blue)
System busy: (Yellow)
System alert : Redundant power or system fan failure (Red)
HDD 1-12 Activity/Fail (Green/Red)
PCI-e slots
8-lane (x3), One is used by SAS HBA
4-lane (x1)
1-lane (x1) used by CU30N (USB 3.0)
Power supply
Redundant power supply least 700W or more
Disk interface
12 x SATA/SAS for internal, support SATA II / SATA III hard disk
Thermal/Fan control
Thermal sensor on processor temperature
CPU Fan control
System fan
Hot Swappable (x4)
Buttons
Power button(Front, power down controlled by S/W)
LCM button (ENT, ESC, UP, DOWN)
System reset button
Locator button
RS232
1 (For UPS)
Environment
Temperature : 5°C to 40°C
Humidity : 0 ~ 80 % R.H. (Non-condensing)
Chassis
2U Rack Mount
Dimensions (HxWxD)
89 x 440 x 662 (mm)
Weight
26.39Kgs
2.Software Functions
RAID
RAID modes
RAID 0, 1, 5, 6, 10, 50, 60 and JBOD
Auto-rebuild
Supported
Hot-swap
Supported
Dedicated hot spare
Supported
Global hot spare
Supported
SMART info
Supported
SMART test
Supported
Online RAID migration
Supported
Online RAID expansion
Supported
RAID volume encryption
AES256bit
Disk
Power management
Available spin-down while idle setting
Bad block scanning
Supported
On-line disk roaming
Supports roaming to other N12000 in volume based
Network
Configuration
Fixed IP Address, Dynamic IP Address,
IP sharing mode
Can be enable/disabled
Transport protocols
TCP/IP/AppleTalk
File protocols
SMB/CIFS, HTTP/HTTPS, FTP, NFS v3, AFP
Link aggregation
6 modes supported
10GbE NIC
Supported
Data Access
Client OS support
Windows XP and after
Windows Server 2003 and after
UNIX/Linux
Mac OS X
Web disk
Web-based file access
FTP
Build-in FTP Server with bandwidth control
Secure FTP
Build-in secure FTP Server with bandwidth control
Download manager (module)
BT Download (Transmission module)
NZB download (NZB module)
Printer server (IPP)
Supports USB printers
Supports IPP various printers
Client can manage print tasks (list/delete) via web user interface
Data Backup
Client incremental data backup
Acronis Backup and Recovery Server OEM for Windows (license x5)
Client system disaster recovery
Acronis Backup and Recovery Server OEM for Windows (license x5)
NAS remote replication
Dual mode in volume based
→Incremental
→Synchronized
USB device copy to N12000
Controlled through LCM
Bi-directional USB copy (module)
Supported
Block Level Access
iSCSI target
Supports Microsoft/Mac/Linux initiator
iSCSI initiator
For stacking with N5200/1U4500/N5500/N7700 series/N8800 series/N12000/N16000
iSCSI thin provisioning
Configurable to virtual size 16TB
MPIO
Supported
MCS
Supported
Clustering
Supported
SCSI3 persistent group reservation
Supported
Power management
Scheduled power on/off
Supported
Volume management
Multiple RAID
Supported
Multiple file system selectable
EXT3/EXT4/XFS
Multimedia Support
iTunes Server
Supported File Types: AAC, MP3 w/ ID3 tag, WAV
Photo Web Server
Supported File Types: GIF, JPG (JPEG), BMP, PNG
Supports EXIF display
Supports slide shows
User Authentication
Local user
Supports built-in user accounts
Local group
Supports built-in user groups
Windows ADS
Supported
File System
Type
Journaling File System
Language support
Unicode Support
Authorization (ACL)
Read, Write, or Deny options on individual users or groups for sharing, sub-folders, and files
User quota
Supported
Administration
Multi-lingual web-based administration
Web-based server management interface supports English, Traditional Chinese, Simplified Chinese, Japanese, Korean, French, German, Italian, Spanish, Russian, Polish and Portuguese
Utility program
MS Windows Setup Wizard, supports Windows 2000/XP/2003/Vista/7
Mac OS X setup Wizard
Email notification
Sends system messages via e-mail to system administrator
SNMP trap
System information trap out
Others
Dual DOM
Supported
Web disk
Supported
Recycling bin
Supported
Web server (module)
Supported
ISO mount
Supported
User module
Supported
IP cam surveillance (module)
Supports up to 10 IP cams
HA (High Availability)
Supported
Package Contents
Accessory Bag(with key)
Ethernet Cable
Power Cord
Acronis True Image DVD
Universal CD
QIG
Warranty Card
HDD Compatibility List Card
Sliding Shelves