Linux NAS | SMB - Rackmount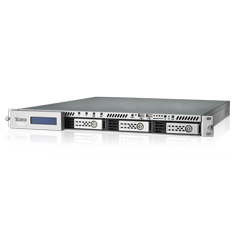 1U4200XXX
Full-Featured 1U Rackmount NAS Server
Features
Extreme Speed
With a power-house of a processor in the Intel Atom D525 running at 1.8GHz, the 1U4200XXX runs circles around the competition. Combined with 1GB of super fast DDR3 RAM, that means incredible transfer speeds and less time spent waiting.

Extreme Data Backup
Secure your data with the sophisticated features and refined simplicity that only Thecus can offer. Incremental backups and recover data with Acronis's True Image software, take and revert back to system snapshots at your leisure, and remotely backup to anywhere in the world with native Rsync support.

Extreme Power Management
1U4200XXX supports scheduled power on/off. With this feature, users can set what time the system turns on or off. This feature is a big plus for people who want to conserve energy. Wake-On-LAN enables users to remotely turn the system on without leaving their seat.

Extreme Protection
Put safety first with AES256bit RAID volume encryption and USB Key functionality. An impenetrable wall of protection is at your disposal to make sure only those you want can access your data, and no one else. Simply set up a USB flash drive key that unlocks your data with no hassle and maximum protection.

iSCSI Thin Provisioning Support
Get the most out of your storage space with the extreme speed of iSCSI and the efficiency of iSCSI thin provisioning. Connect through iSCSI for the fastest data transfer speeds available and make wasted disk space a thing of the past with thin provisioning's flexible storage functionality.

Online RAID Volume Management
Managing RAID volumes has never been easier thanks to the 1U4200XXX's Online RAID Volume Management. Administrators can easily expand or migrate RAID volumes without having to power down the system, eliminating costly downtime.

Available with a Single Power Supply (1U4200XXXS) or a Redundant Power Supply (1U4200XXXR)
Thecus has made the 1U4200XXX available in single and dual power supply to give users more choices about how to protect their data. Choose the robust single power supply or go the distance with the added security of the dual power supply.
Overview
The new XXX line of Thecus NAS is leading the way in catering to your needs. With Xtreme power, Xtreme function, and Xtreme value, these Thecus NAS deliver. Whether it be a strong product for a budget price or a high-powered NAS for the tech-savvy, each model is extremely geared towards fitting you. From an extremely speedy 2-bay for your home office to an extremely powerful 8-bay rackmount for even the most demanding enterprise, Thecus XXX NAS are ready for you.
The Thecus 1U4200XXX NAS deliver great flexibility and functionality for whatever your data needs may be and data protection to ensure that everything is always accessible and safe. Protect your data the way you want with RAID 0, 1, 5, 6, 10, or JBOD. When any problems arise, hot swapping in a new disk or two will keep your data protected and readily available. The 1U4200XXX's iSCSI stacking function makes it easy to add new NAS to your rack at any time. With stacking, up to 6 1U4200XXX NAS can be accessed through the same IP address for a whopping total capacity of 72TB! The 1U4200XXX also has the power to deal with this much storage space with its Intel Atom D525 processor and 1GB of DDR3 memory. This kind of power, size, and flexibility makes processor- and capacity-heavy tasks such as file sharing extremely easy to set up and run smoothly.
The 1U4200XXX also sports Thecus's state-of-the-art firmware version 5.0. The new firmware supports the advanced EXT4 Linux file system, which offers many improvements including increased speed, support for volumes up to 1 exabyte (1 million terabytes, a.k.a. virtually unlimited), and backward compatibility for a smooth transition from your old file system. The new firmware also has Thecus's advanced new photo server, Piczza. Piczza lets you manage, organize, and share your photo libraries with an easy point-and-click interface. Uploading photo albums to social networks such as Facebook is done with a single click and privacy settings are just as simple to adjust. Data truly has a whole new set of tools with the powerful and expansive 1U4200XXX NAS and Thecus's brand new firmware version 5.0.
Specs
1.Hardware Platform
Item
Spec
Processor
Intel® Atom™ D525
System Memory
1GB DDR3 SODIMM
LAN Interface
RJ-45x2: 10/100/1000 BASE-TX Auto MDI/MDI-X
USB Interface
USB 2.0 host port x6 (front x2, back x4) (Type A)
LED Indicator
Power: (yellow)
System Alert: Redundant power or system fan failure (red)
HDD1-4 Activity/Fail (green/red)
Disk Interface
4 x SATA for internal
1 x eSATA for external
Power Supply
200W Power supply (1U4200XXXS)
250W Redundant power supply (1U4200XXXR)
Thermal
Thermal sensor on processor temperature
Real-time Clock
Battery backup system clock
Power Management
Power on after power lose resume
Buzzer
Frequency controllable
Buttons
Power button (Front, shutdown controlled by user interface)
LCM button (ENT, ESC, UP, DOWN)
System reset button
RS232
1 (For UPS)
Environment
Temperature: 5°C to 40°C
Humidity: 0 ~ 80 % R.H. (Non-condensing)
Chassis
1U Rack mount
Dimensions (HxWxD)
43 x 433 x 555 (mm)

2. Software Functions
RAID
RAID Modes
RAID 0, 1, 5, 6, 10 and JBOD
Auto-rebuild
Supported
Hot-swap
Supported
Hot Spare
Supported
Online RAID Migration
Supported
Online RAID Expansion
Supported
RAID Volume Encryption
AES256bit
Disk
Power Management
Available spin-down while idle setting
Bad Block Scanning
Supported
SMART Info
Supported
SMART Test
Supported
Roaming
Supports roaming to other 1U4200XXX
Network
Configuration
Fixed IP address, dynamic IP address
IP sharing mode
Can be enable/disabled
Transport Protocols
TCP/IP/Appletalk
File Protocols
SMB/CIFS, HTTP/HTTPS, FTP, TFTP, NFS v3, AFP
Link Aggregation
Load balance, Failover, 802.3ad, Balance-XOR, Balance-TLB, Balance-ALB
Data Access
Client OS Support
Windows XP and after
Windows Server 2003 and after
UNIX/Linux
Mac OS X
FTP
Built-in FTP server with bandwidth control
Secure FTP
Built-in secure FTP server with bandwidth control
TFTP
Built-in TFTP server
Download Manager
HTTP/FTP/BT/eMule (via DLM module)
NZB download (via NZB module)
Printer Server (IPP)
Supports USB printers
Supports a wide range of IPP printers
Client can manage print tasks (list/delete) via web user interface
Data Backup
Client Incremental Data Backup
Acronis True Image (OEM version)
Client System Disaster Recovery
Acronis True Image (OEM version)
USB device copy to NAS
Controlled through LCM
Snapshot
Supported
Bi-directional USB Copy
Supported (via USB Copy module)
Rsync Backup
Supported (via Rsync module)
Mac OS X Time Machine
Supported
Block Level Access
iSCSI Target/Initiator
Supports Microsoft/Mac OS X/Linux initiators and Thecus NAS targets
iSCSI Thin Provisioning
Configurable to virtual size as system allowed capacity
Power Management
Scheduled Power On/Off
Supported
Volume Management
Multiple RAID
Supported
Multiple File System Selectable
EXT3/EXT4/XFS/ZFS
Multimedia Support
iTunes Server
Supports AAC, MP3 w/ID3 tag and WAV
Photo Web Server (Piczza!™ module)
Supports GIF, JPG (JPEG) and PNG
Supports EXIF display
Supports slide show
Media Server
Supports uPnP AV streaming protocol
User Authentication
Local User
Supports built-in user accounts
Local Group
Supports built-in user groups
Windows NT/ADS
Supported
File System
Type
Journaling File System
Capacity
16TB (XFS, ZFS, EXT4)/8TB (EXT3) per volume
Language Support
Unicode Support
Authorization (ACL)
"Read", "write", or "deny" privileges to individual users or groups in folders and sub-folders
User Quota
Supported
Administration
User Interface
Web-based user interface supports English, Traditional Chinese, Simplified Chinese, Japanese, Korean, French, German, Italian, Spanish, Russian, Polish, Portuguese and Turkish
Utility Program
MS Windows Setup Wizard
Supports Windows 2000/XP/2003/Vista/7
Mac OS X Setup Wizard
Email Notifications
Sends system messages via email to the system administrator
SNMP Trap
System information trap out
Others
Dual DOM
Supported
Recycled Bin
Supported
Web Disk
Supported
Web Server
Supported (via module)
ISO Mount
Supported
User Module
Supported
IP CAM Surveillance
Supports up to 5 IP cameras (via module)
USB/eSATA Schedule Backup
Supported (via module)
RAID Replication
Supported (via module)
Mail Server
Supported (via module)
Package Contents
Accessory Bag(with key)
Ethernet Cable
Power Cord
Acronis True Image DVD
Universal CD
QIG
Warranty Card
HDD Compatibility List Card
Fixed Shelves